Two luxury SUVs with many similarities but some key differences: that's the situation with the 2018 Audi Q5 and 2018 Audi Q7, which have caught the interest of drivers across Grapevine, Dallas, Irving, and Fort Worth. However, which one is right for you? We'll help you figure that out.
In our 2018 Audi Q5 vs. Q7 comparison, we at Audi Grapevine will give you a closer look at these two luxury crossovers, so you can decide which meets more of your needs. Enjoy reading-and give us a call if you have any questions!
2018 Audi Q5 vs Q7: Interior Dimensions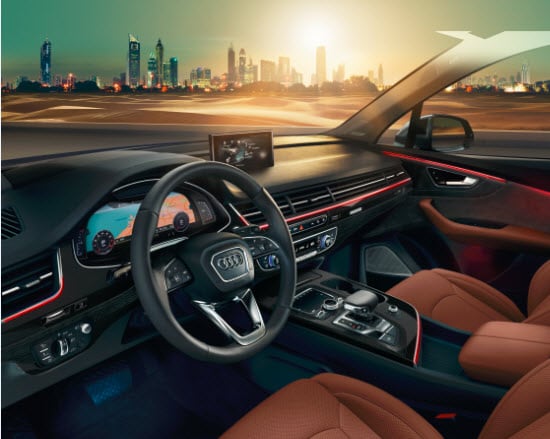 One of the key differences between the 2018 Audi Q5 vs. Q7 involves the size of the cabin. The Q5 is a compact SUV and has space for five people across two rows of seats, whereas the Q7 is a midsize SUV with space for seven people across three rows.
Depending on your family's size and the number of people you plan on bringing along for the ride, one of these SUVs may fit your needs better than the other. Both have spacious seating. The Q5 offers 40.9 inches of front-row legroom and 37.8 inches of legroom in the rear, making both rows comfortable for an average adult.
The Q7 has legroom measuring 41.7 inches in the first row, 38.8 inches in the second, and 29.2 inches in the third. The first two rows are great for seating up to five adults, and the third row is perfect for seating two kids.
Performance Specs
There's a lot that looks similar under the hoods of the Audi Q5 vs. Q7. They share the same base engine: a 2.0L TFSI® I-4, capable of producing 252 horsepower and 273 lb-ft of torque to deliver plenty of power when you need it most. The compact Q5 accelerates faster than the midsize Q7 with that engine due to its smaller size.
However, only the Q7 has a second engine available. Its optional 3.0L TFSI® produces 333 horsepower and 325 lb-ft of torque, for a 0 - 60 MPH time (5.7 seconds) that edges slightly ahead of the Q5 (5.9 seconds). If you're willing to upgrade, the Q7 can go toe to toe with the Q5 in terms of acceleration. 
Advanced Safety Features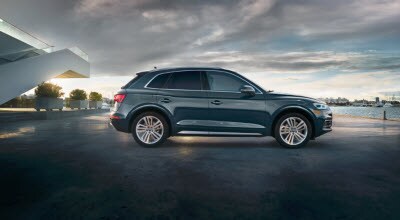 SUVs are often family vehicles, and as such, safety is a very important part of which car you choose to buy or lease. Luckily, the 2018 Audi Q5 and Q7 offer an abundance of safety features, including the following:
Rearview Camera: When you need to back up, the extra eyes of a rearview camera can be highly helpful. It can confirm what you're seeing with your own eyes to help avoid an accident.
Audi pre-sense® city: Reduce the risk of collisions with automatic emergency braking at speeds of up to 52 MPH.
Audi pre-sense® basic: This system can prepare for a crash by charging the brakes, tightening the seatbelts, and closing the windows and sunroof.
2018 Audi Q5 vs Q7: Which Will You Choose?
As you can see from our Audi Q5 vs. Q7 comparison, these two luxury SUVs are well-matched in terms of safety. If it's more space for people and cargo, the Q7 has its advantages. However, if you want a faster moving and more athletic base trim, then the Q5 performs well.
Which will you choose? Schedule a test drive of the Audi Q5 vs. Q7 at Audi Grapevine and decide for yourself which is best for your daily driving in Grapevine, Dallas, Irving, and Fort Worth!