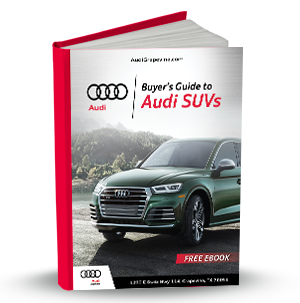 Thinking about making your next luxury SUV a sporty, stylish, and capable Audi? We at Audi Grapevine are here to help! In our FREE Buyer's Guide to Audi SUVs eBook, we dive headfirst into the Audi SUV lineup to help shoppers in Grapevine, Dallas, Fort Worth, and Irving make the right choice.
Inside this guide, you'll learn all about the SUVs that Audi has to offer, including the Audi A4 allroad, the Audi Q5 and SQ5, the Audi e-tron, and more. See what each has to offer inside and out and what makes each one stand out from the rest inside this comprehensive guide.
You can download your FREE copy and get started on your research today. All you need to do is fill out and submit the short information request form on this page. Then, you'll be one step closer to your next luxury SUV!