Download Our FREE Guide to Buying a Car Online eBook!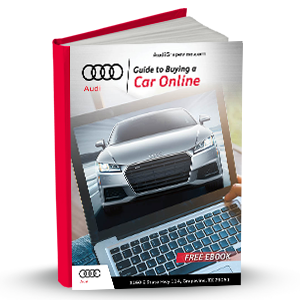 Most (if not all) of our shopping today can be done online, and that includes buying your next vehicle. Rather than making several trips through Grapevine, Dallas, and Irving to find the perfect vehicle, check out our FREE Guide to Buying a Car Online eBook.
Inside this invaluable resource, the Audi Grapevine team will outline all the essential steps you need to take when car shopping online. You'll learn all about:
The benefits of buying a car online.
How to determine a car budget.
Deciding on the perfect vehicle for you.
And much more!
Get the ball rolling on your next (or first) online car-shopping adventure today by downloading your FREE copy of our eBook. All you need to do is fill out the short information request form on this page.
As always, our team is standing by to answer any questions you may have. Give us a call today!