On occasion, air can get trapped in the lines of your brake system where the brake fluid flows. These pockets of air can cause many different types of problems within your brake system, including mushy pedal syndrome, which requires you to press down much harder on the brake pedal than usual.
The process of bleeding your brakes involves literally bleeding some of the brake fluid out of the brake lines, so these pockets of air can be released. By doing so, it'll usually solve mushy pedal problems and save you a trip to the service center.
On this page, we at Audi Grapevine have put together a detailed guide to bleeding your brakes in the comfort of your own garage. Drivers in Grapevine, Dallas, Fort Worth, and Irving can learn how to bleed their brakes using the step-by-step instructions below! Read ahead to get started.
If you have any questions or concerns about the process along the way, don't hesitate to give us a call at our service center!
Step-by-Step Instructions to Brake Bleeding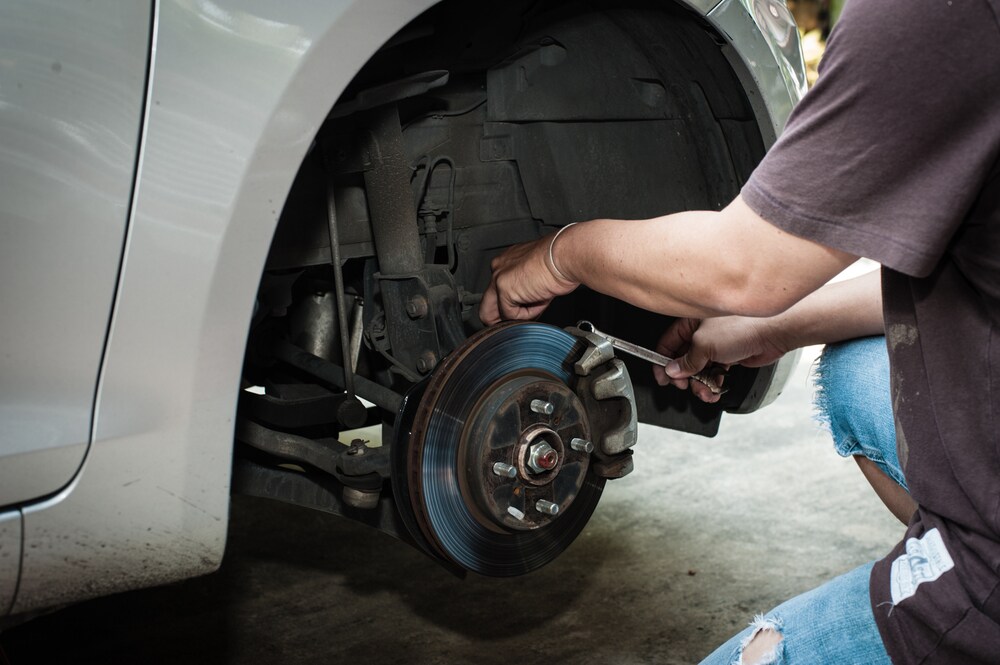 Bleeding your brakes at home is doable if you have the proper instructions in front of you, including the ones that you'll find below:
Locate either a brake bleeder wrench or a combination wrench that fits the brake bleeder nozzle on your vehicle. You'll also need the brake fluid that your vehicle uses, a small and flexible hose, a clean glass jar, and someone to help you out.
Locate the brake bleeder screw and use the wrench to loosen the screw. Do not break the screw off.
Put one end of a piece of hose over the loosened bleeder screw and the other end inside of your clean glass jar.
Have your brake bleeding buddy get behind the wheel of the car and pump your brake pedal three or four times. After that, have your buddy hold the brake pedal down.
Loosen the bleeder screw even more until brake fluid begins to flow through the hose and in your glass jar. Notice the air bubbles sputtering from the tube.
Once the fluid stops sputtering with air bubbles, tighten the screw back up while your buddy continues to hold down the brake pedal.
Open up the master cylinder and fill it to the maximum fill line with new brake fluid.
 Repeat the process until each brake on your vehicle bleeds out brake fluid without sputtering with air bubbles.

Still Have Questions about Bleeding Your Brakes?
We at Audi Grapevine hope that you got all the information you were looking for about bleeding your brakes here in our brake bleeding guide. If you still have questions or would prefer to have one of our expertly trained service technicians bleed your brakes for you, give us a call at our on-site service center today.
Drivers in Grapevine, Dallas, Fort Worth, and Irving can also stop by the service center any time to speak with one of our friendly technicians!